Fairly new to the Western taste buds, the over 100 varieties of Asian Pears grown today came originally from Japan. These firm, yet amazingly juicy pears ripen here in Oregon from late summer to early fall. They range in size and color from gigantic (2 lbs.) and golden brown to about 7 oz. and yellow. In general, ripe pears are quite firm to the touch, crunchy to the bite and exceedingly juicy! The most recognized Asian Pear here in the West is the 20th Century or Nijisseiki. Here at Umpqua Organic Farm, we've chosen four of the most well liked varieties. We think our Asian Pears accurately represent the unique qualities that our Asian counterparts aspire to and, They're Organic!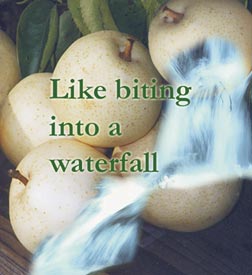 Unlike other pears, Asian pears are not soft and mushy when they're ripe. Asian pears are firm to the touch but shattering to the taste buds! If picked too soon, they will never develop the sweetness and character for which these fruits are loved. That's why we harvest our Asian Pears only when fully ripe so as to guarantee the full flavor qualities. We think you'll like every variety of Asian Pears that we grow. But we want to give you an idea of what you can expect of each before you order.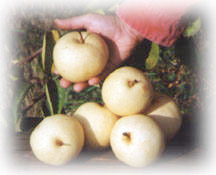 The 20th Century and the Shinseiki are both smooth, yellow skinned pears. In fact, to the casual observer, it's pretty difficult to tell them apart. They ripen at about the same time, late September to early October, although the Shinseiki is usually a little earlier. The crisp texture of the pulp and the exploding waterfall of sweet juice is common to both these pears.
The Shinko and Large Korean pears are both russet or brown skinned fruits. The skin is definitely firmer, similar to that of the European pears. The Large Korean is in a class all by itself when it comes to size, often weighing as much as 1 1/2 lbs. and is brown in color. The Shinko is a bit more greenish/gold.
Biting into any Asian Pear is truly like biting into a waterfall. Exploding with chin drenching sweetness is the hallmark of these delicious fruits. When fully ripe, the 20th Century has a sweet, pronounced flavor with a subtle hint of citrus. Kids absolutely love them. We recommend these for the first timers new to the Asian Pear's truly unique and delightful taste experience. We can ship some to you beginning in Late September. Kept at 34º, you can expect them to keep for up to 3 months.
The Shinseiki retains its native, understated flavor for the more discriminating palate. Many say that when fully developed, the Shinseiki has a definite butterscotch flavor. Although usually eaten alone, many people use this variety to accent salads and for making smoothies. Drenched in fresh lemon juice, the true, hidden flavor qualities burst forth for a pronounced and undeniably pleasant culinary discovery. We can ship some to you in Late September. Kept at 34º, you can expect them to keep for up to 3 months.
The Shinko has a distinctive varietal flavor. Many describe it as wine-like. Crisp, juicy and sweet, this pear is reminiscent of the wild, natural outdoors. We can ship some to you in Mid October. Stored at 34º, they will keep for 3-4 months.
The Large Korean is similar to the Shinko in texture but is a bit sweeter and surprisingly, unexpectedly juicy. Nothing quite describes the unique flavor of this pear except to say that it's satisfyingly delicious. Serve slices of Large Koreans after a meal and you will not hear any complaints. We can ship some to you in Mid October. When stored at 34º, they will keep for 3-4 months.