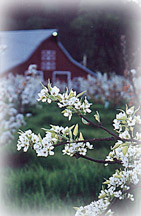 is situated on 30 acres of mineral rich soil directly along side the Umpqua River just outside the town of Roseburg, Oregon. In fact, we draw all of our irrigation water from this pristine river.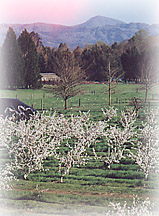 Formerly an abandoned Bartlett pear orchard, we purchased the land in 1989 and removed the long forgotten and unproductive trees. After two years of soil preparation the first 800 semi-dwarf Asian Pear trees were purchased and planted in the winter of 1993. The following winter, 1,600 trees of similar varieties were planted. Each one was grafted by hand here on the farm.
All of our Asian Pears trees are tended to by hand. Each tree receives at least one hand weeding per year (often two), measured amount of compost, mineralized amendments (rock dust) and fresh straw mulch cut from our own organic grass fields.
During the growing season we follow a well-planned schedule of foliar and
root feeding as well as spray applications of various micro-nutrients, (Aerobic Compost Tea). During the early spring, after determining each tree's capacity for fruit, we hand thin the small, newly developing fruit so the tree can ripen the remaining fruit to the proper size and quality.
Our first modest crop was harvested in 1995. As Asian Pears were yet new to the American public, we introduced them at our local Farmer's Market. Everyone raved about our pears. In fact, each year, the Farmer's Market plans their annual Harvest Festival to coincide with our harvest as our Asian pears attract so many people. We're honored. Please give our pears a try.
If you would like to know more about our organic practices you can email us at info@umpqua-organic-farm.com


We're Organically Certified by Oregon Tilth.
Our certification number is OR-OTCO-93-00288